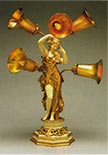 We are professional appraisers and liquidators of personal property, specializing in antiques, collectibles, decorative arts, residential contents, and business assets. Our company offers Appraisal and/or Estate Sale Services prepared by professional, qualified and experienced personnel. We are qualified to appraise entire estates or single items.
We specialize in the accurate and fair appraisal of furniture, china, crystal, silver, textiles, and decorative arts. We also provide professional estate sale management services. Our mission is to bring these services to the Asheville area with competence, professionalism, and integrity.
Headquartered in Asheville, NC, we serve individuals in Western North Carolina and all surrounding counties, East Tennessee, and the upstate of South Carolina.
Bonnie Rose Appraisal Services, Inc. follows the established code of ethics of the Certified Appraisers Guild of America. As a member of the "Certified Appraisers Guild of America", we adhere to the "Certified Appraisers Guild of America's Code of Professional Ethics" and to the 2003 "Universal Standards of Professional Appraisal Practices".
Confidentiality and integrity are our guiding principles. As such, an hourly rate is charged for appraisal services, and not a percentage of property value. Because we are not dealers and do not buy from our clients, we appraise as a totally disinterested party. This insures a fair and objective appraisal of our client's belongings.
When selecting a firm to conduct the sale of your estate, consider the fact that if you select Bonnie Rose Appraisal Services, Inc., a certified appraiser will evaluate each of your items! This is an added value to you, the client. The inventory will be tastefully arranged and appropriately tagged. We have a mailing list of loyal customers which helps you, the client, have a broader buying audience. There is a great deal of work involved in a successful estate sale, and our experience makes all the difference.

Headquartered in Asheville, NC, we serve businesses, professionals, and the general public in Western NC, Upstate SC, and Eastern Tennessee.